ArtNet je protokol pro přenos DMX protokolu a RDP (Remote Device Management) po UDP (User Datagram Protocol) v IP (Internet Protocol). Zjednodušeně: vaše DMX nemusíte na stage táhnout několika linkami (universama) ale všechny najednou po "počítačovém síťovém" kabelu. Na stage máte krabičku, ko které je tonto "počítačový síťový kabel" zapojen. Z této krabičky už klasicky rozvedete jednotlivé DMX kabely do požadovaných světel.
Začínáme s ArtNet a ChamSys
Jak tedy začít? Já začal s převodníkem ArtNet – DMX 3 universe od http://www.blackout.sk. Převodník cenově vychází na 70€ a nabízí 3 universy.
Tento převodník má defaultně nastavenou IP: 192.168.0.99 a masku 255.255.255.0  Pro přihlášení do převodníku použijte tyto defaultní přístupové údaje: user: admin heslo: 12345  Není nutné ho nastavovat, po zakoupení je již vše nastaveno. Kompletní návod k ArtNet převodníku od blackout.sk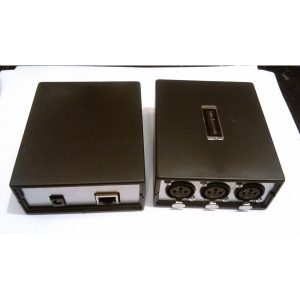 Proč jsem vybral ChamSys MagicQ PC
Pokud začínáte, vyprdněte se na Freestyler DMX a podobné programy pro začátečníky a jděte rovnou do něčeho na úrovni. Profíci s penězma valí MA lighting. Zbytek osvětlovačů, co se nechtějí učit nic nového (podle mne 🙂 ) valí Avolites – je to rider a všichni s tím umí. Já, vyzkoušel několik programů (především zdarma) ale jakmile jsem objevil ChamSys, zamiloval jsem se. Koketoval jsem i s Avolites Titan One ale nesednul mi.
Pokud nemáte peníze, pro začátek je ChamSys super v tom, že stačí ArtNet převodník a můžete používat 1 universe zcela zdarma (na ovládání světel). Nemáte žádné omezení na funkčnost. Pak až něco vyděláte, přikoupíte PC Wing Compact, pak Extra Wing Compact a s MagicQ MQ80 už máte dospělý pult bez nutnosti PC a můžete hrát vysokou osvětlovačskou ligu 🙂
Pojďme nastavit MagicQ PC na počítači
Stáhnete na PC MagicQ PC a nainstalujte. Náš ArtNet – DMX 3 universe má IP: 192.168.0.99, našemu PC kde máme nainstalovaný MagicQ PC nastavíme IP: 192.168.0.2 a ArtNet propojíme s PC síťovým kabelem.
OK, nyní spustíme MagicQ PC. Jdeme do sekce Setup -> VIEW SETTINGS -> Network kde nastavíme tyto hodnoty:
IP address – stejnou jako má PC (192.168.0.2)
Subnet mask – defaultně 255.255.255.0
Gateway address – není nutná ale většinou 192.168.0.1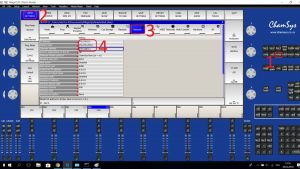 IP adresy máme nastavené, vyzkoušíme, že se z PC dostaneme na ArtNet převodník příkazem ping 192.168.0.99
V konzoli je vidět že IP adresa 192.168.0.99 odpovídá na ping, máme správně nastaveno.
Nyní nastavíme MagicQ aby universe 1 odesílal na ArtNet 0. Jdeme do sekce Setup -> VIEW DMX I/O
Nastavili jsme pro universe 1 status na enabled a pojmenovali jsme si ho na universe1.
To je vše 🙂 Nyní můžete napatchovat světla a začít používat.